Meetings
Our club meetings are on the
FIRST TUESDAY OF THE MONTH (EXCEPT JANUARY)
Time: at 7:15pm for a 7:30pm start
Location: main hall, WEST PENNANT HILLS COMMUNITY CENTRE 42 HILL ROAD, WEST PENNANT HILLS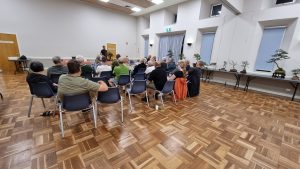 The meeting is held at the West Pennant Hills Community Centre, 42 Hill Rd, West Pennant Hills. First Tuesday of each month (except January) at 7:15 pm for 7:30 start. Our meetings, as well as providing much information, are friendly and informal. Our lecturers and demonstrators are qualified and their work is of seminar quality.
We also encourage up and coming demonstrators and there is a bench display of our members trees each month, members are encouraged to bring a tree and give a short discussion on it after the demonstration if they wish.

Upcoming schedule for 2023
| | |
| --- | --- |
| March 7th | Tony Bebb (Visiting AABC tutor) |
| April 4th | TBC |
| May 2nd | Sean Hood |
| June 6th | TBC |
| July 4th | Meeting workshop (Deciduous species) |
| August 1st | Evan Marsh (Developing roots for Shohin) |
| September 5th | Adrian Wells/ Ian White (Root grafting) |
| October 3rd | TBC |
| November 7th | Allan Peck |
| December 5th | Meeting workshop (Figs) |
Workshops
The Bonsai Society of Australia hosts hands on free monthly workshops for members on the third Tuesday of the month (except december). If you would like to attend please bring a tree or two to work on and any materials you might need.
Time: 7:30pm start, duration: approximately 2 hours.
Location: Activity Room At West Pennant Hills Community Centre, 42 Hill Road, West Pennant Hills
Contact one of our committee members for more information click here