With not much to look forward to in the way of exhibitions in the near future, here is some looking back to the Australian Plants as Bonsai Exhibition held at the Australian National Botanic Gardens earlier this year. The trees are accompanied by the descriptions their owners provided for the catalogue.
Growing shohin bonsai (can be held in one hand) is a sometimes challenging but delightful way to explore the potential of Australian native plants as bonsai. This is especially true for species with small leaves and flowers, textured bark in young plants and foliage with interesting colours, textures and shapes.
Grevillea (31)
Grevillea x semperflorens 'Mallee Dawn'
Tree age:
Trained/ Styled since:
ANBG Locations: None
Kunzea (37)
Kunzea sp.
Tree age: 12 years
Trained/ Styled since: 2008
ANBG Locations: 19-191c-192
Honey myrtle (45)
Melaleuca incana 'Sea Mist'
Tree age: 8 years
Trained/ Styled since: 2012
ANBG Locations: 11- 12- 123
Southern grevillea (28)
Grevillea australis 'Hollybank'
Tree age: 8 years
Trained/ Styled since: 2015
ANBG Locations: 24- 27- 94- 230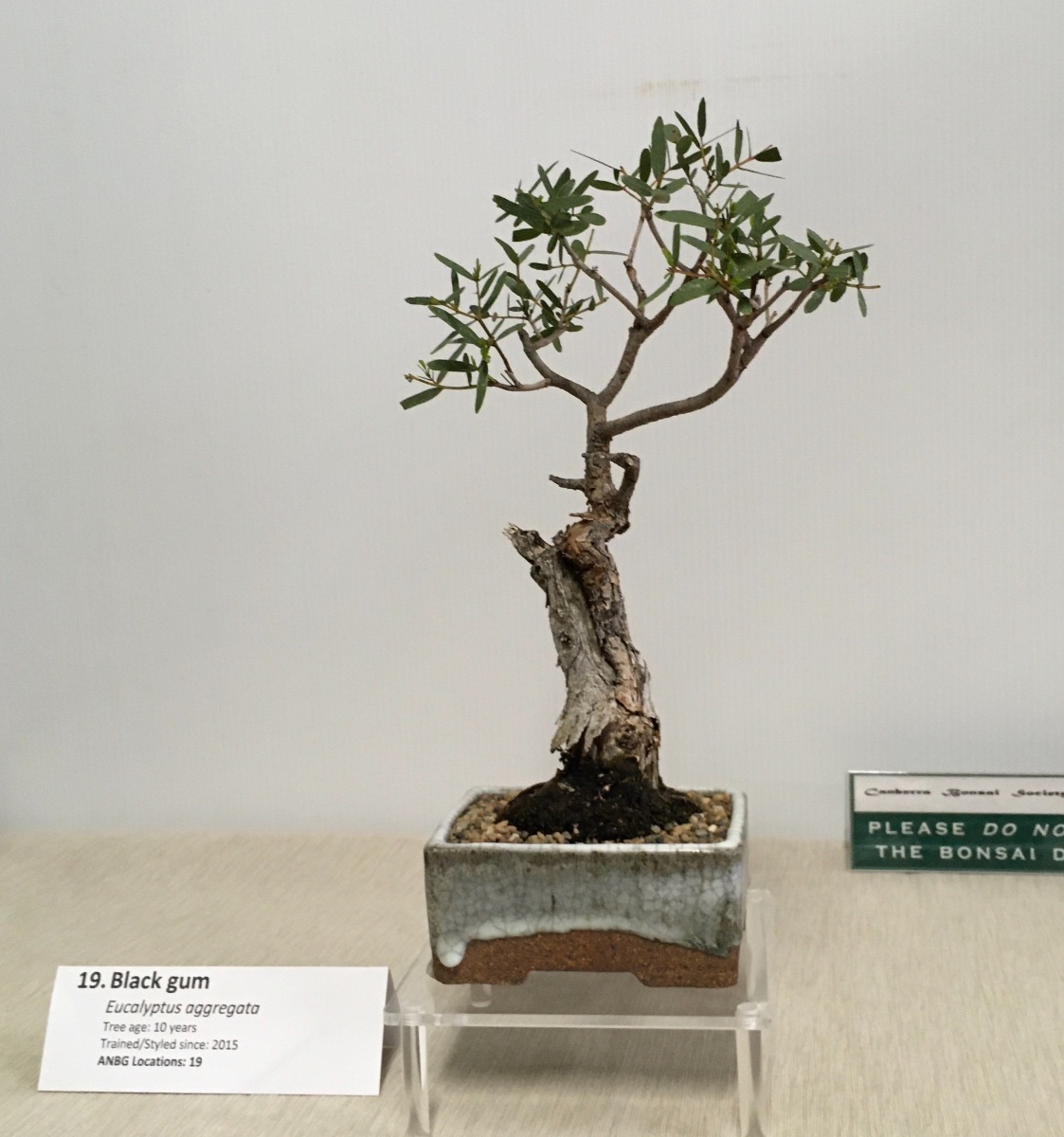 Black gum
Eucalyptus aggregata
Tree age: 10 years
Trained/ Styled since: 2015
Eucalyptus aggregata, commonly known as black gum, is a species of Eucalyptus endemic to south eastern Australia. A medium sized tree with dark bark and white flowers over the summer and autumn, it is a component of a grassy woodland, often in low-lying or swampy areas. Much of its natural habitat has been cleared and it is under threat.
ANBG Locations: 19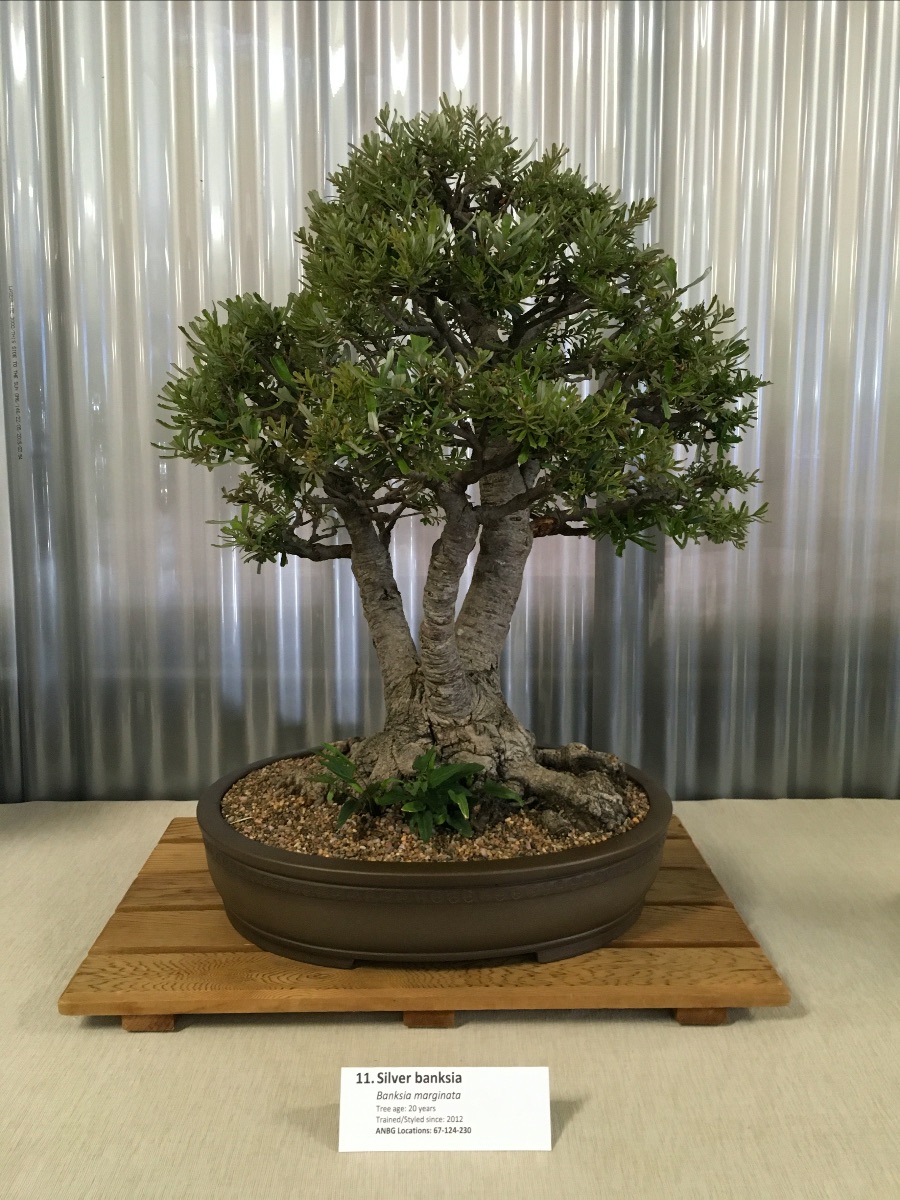 Coastal rosemary
Westringia frutcosa
Tree age: 5 years
Trained/ Styled since: 2017
This was originally nursery stock and I bought it just to see if I could make a bonsai out of it, and it has been fun. A very rewarding tree so far.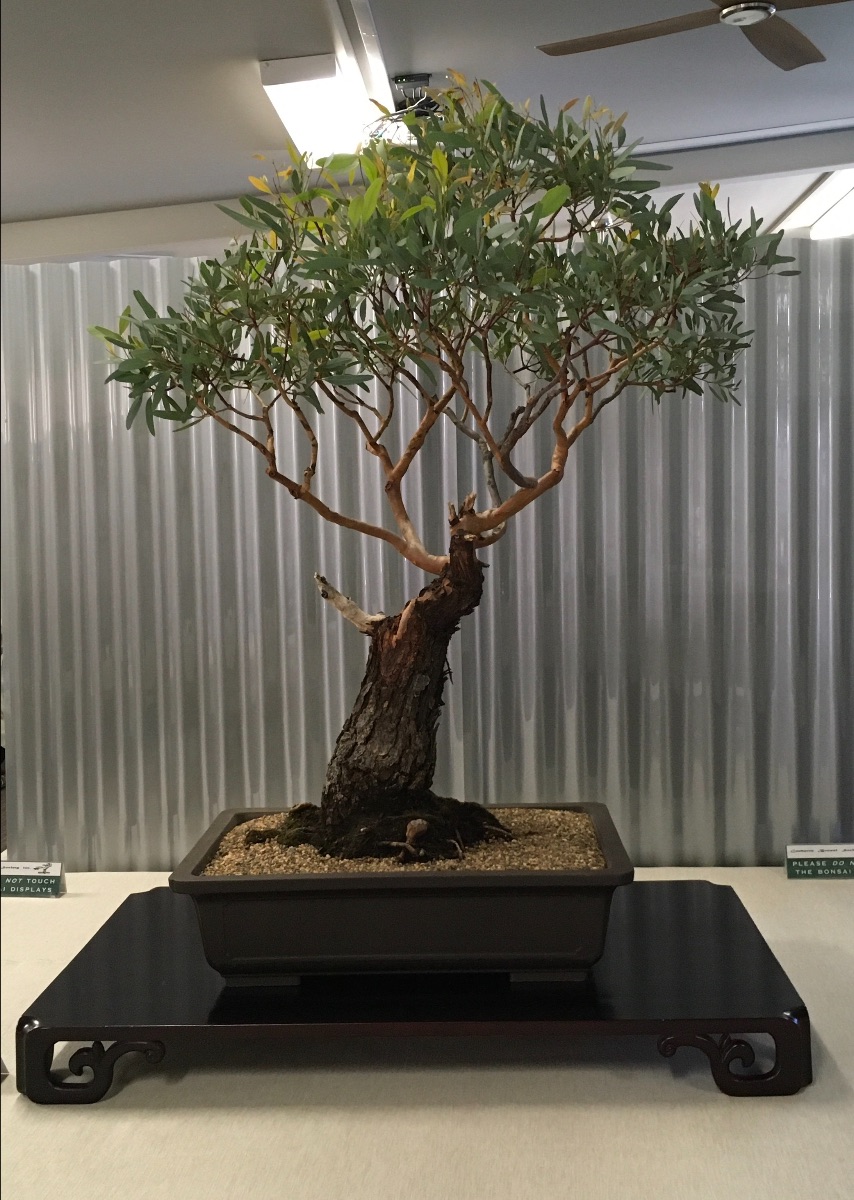 Red iron bark
Eucalyptus sideroxylon
Tree age: 15 years
Trained/ Styled since: 2005
Eucalyptus sideroxylon is one of the best known of the ironbarks, as there is an isolated population in the western area of Australia's largest city, Sydney. There are two subspecies recognised: subsp sideroxylon is the common form found over most of the range of the species except that it only has a very slight incursion into Victoria. Subsp. tricarpa is found along the south coast of NSW, the north east coast of Victoria and central Victoria. The latter differs from subsp sideroxylon in having fewer flowers in its inflorescence, larger buds and fruit and broader juvenile foliage.
ANBG Locations: 49-225-226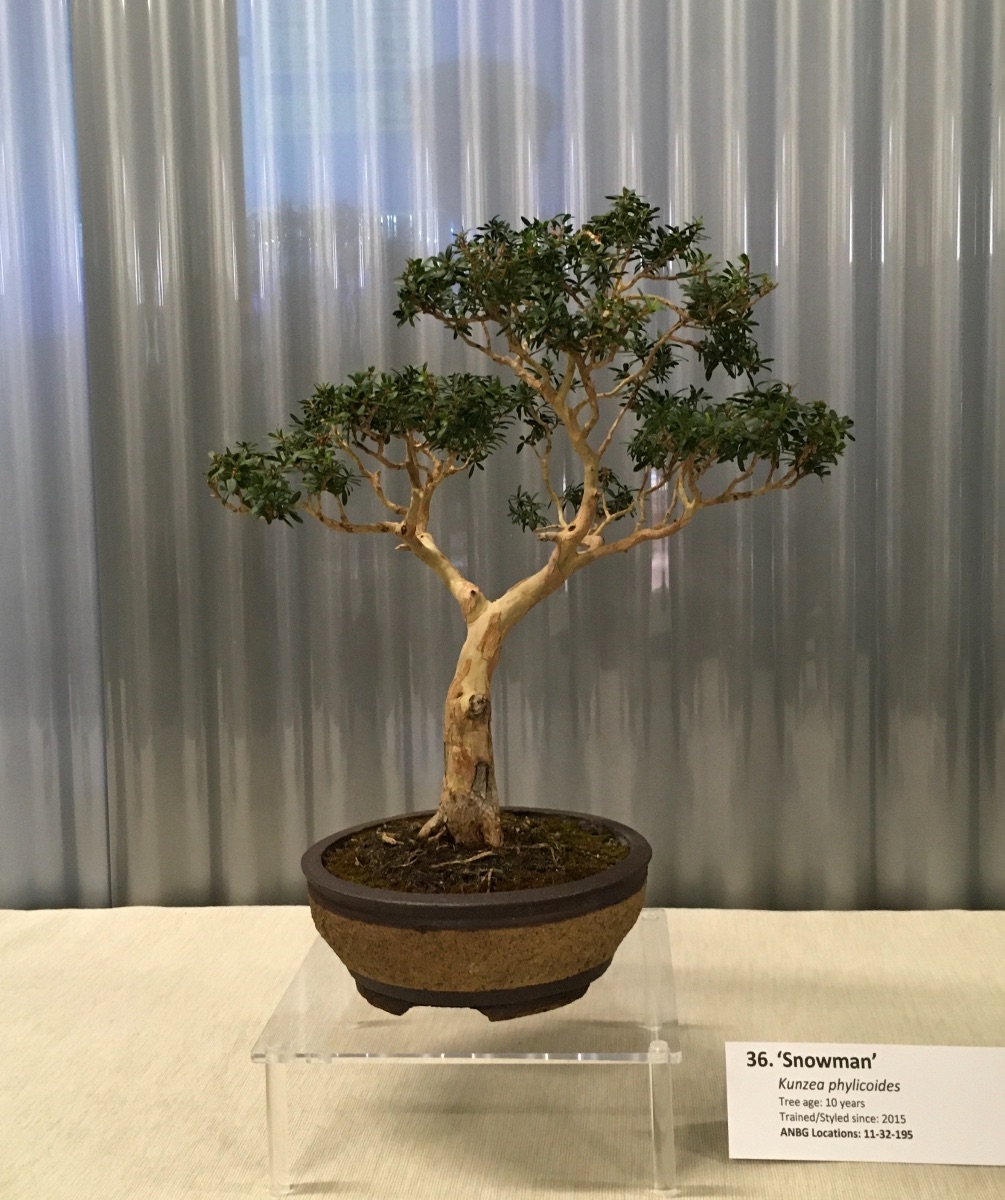 Burgan
Kunzea phylicoides
Tree age: 10 years
Trained/ Styled since: 2015
Kunzea phylicoides is native to mainland Australia (Victoria, NSW, ACT and Queensland). It is an upright, spreading shrub to 3m and has small narrow leaves up to 20mm long which are aromatic when crushed. It flowers here in January/ February and has profuse amounts of white scented small flowers. In the past it has been misnamed K. ericodies but that species is endemic to New Zealand.
ANBG Locations: 11-32-195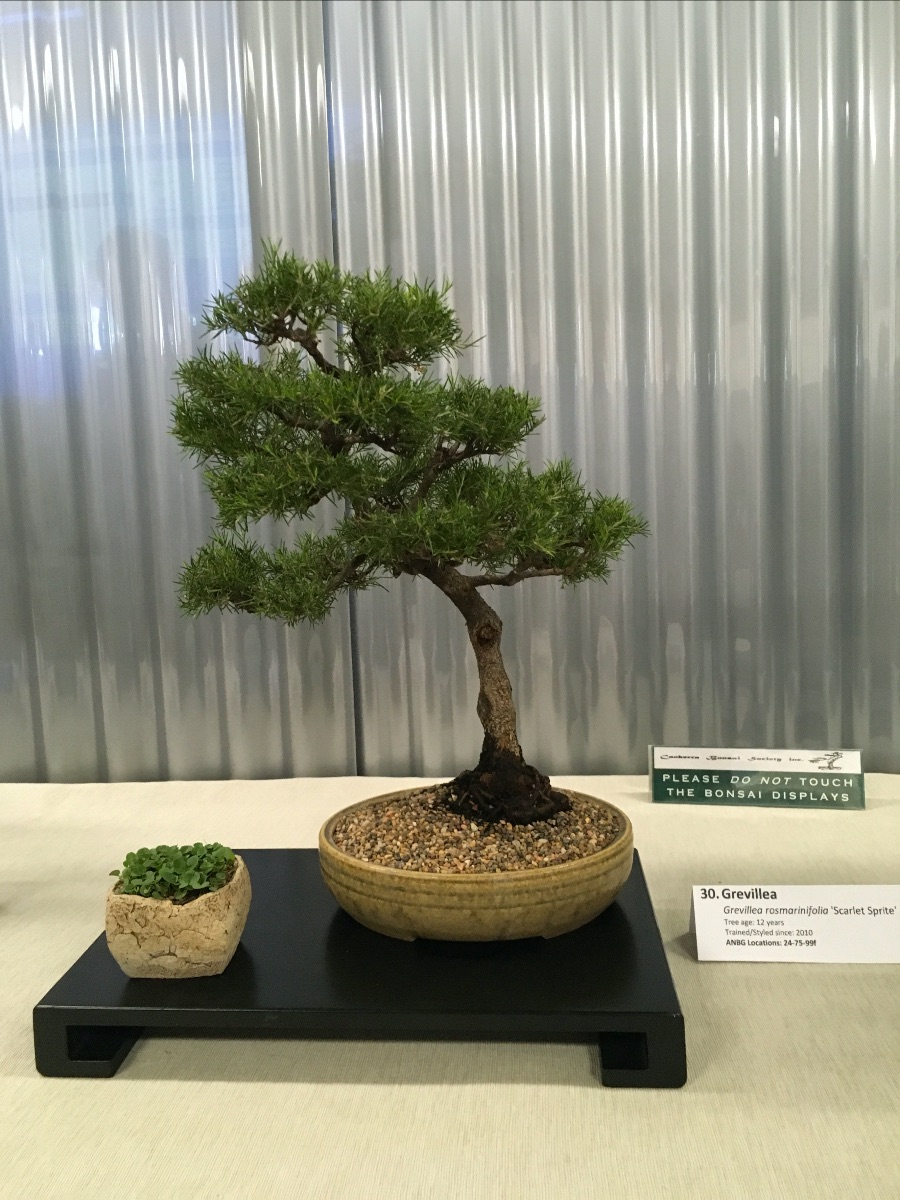 Grevillea
Grevillea rosemarinifolia 'Scarlet Sprite'
Tree age: 8 years
Trained/ Styled since: 2014
Surprisingly hardy in pot cultivation, 'Scarlet Sprite' is a joy all year, with its bright green summer foliage and red 'spider' flowers over winter and spring.
ANBG Locations: 9-12-32-226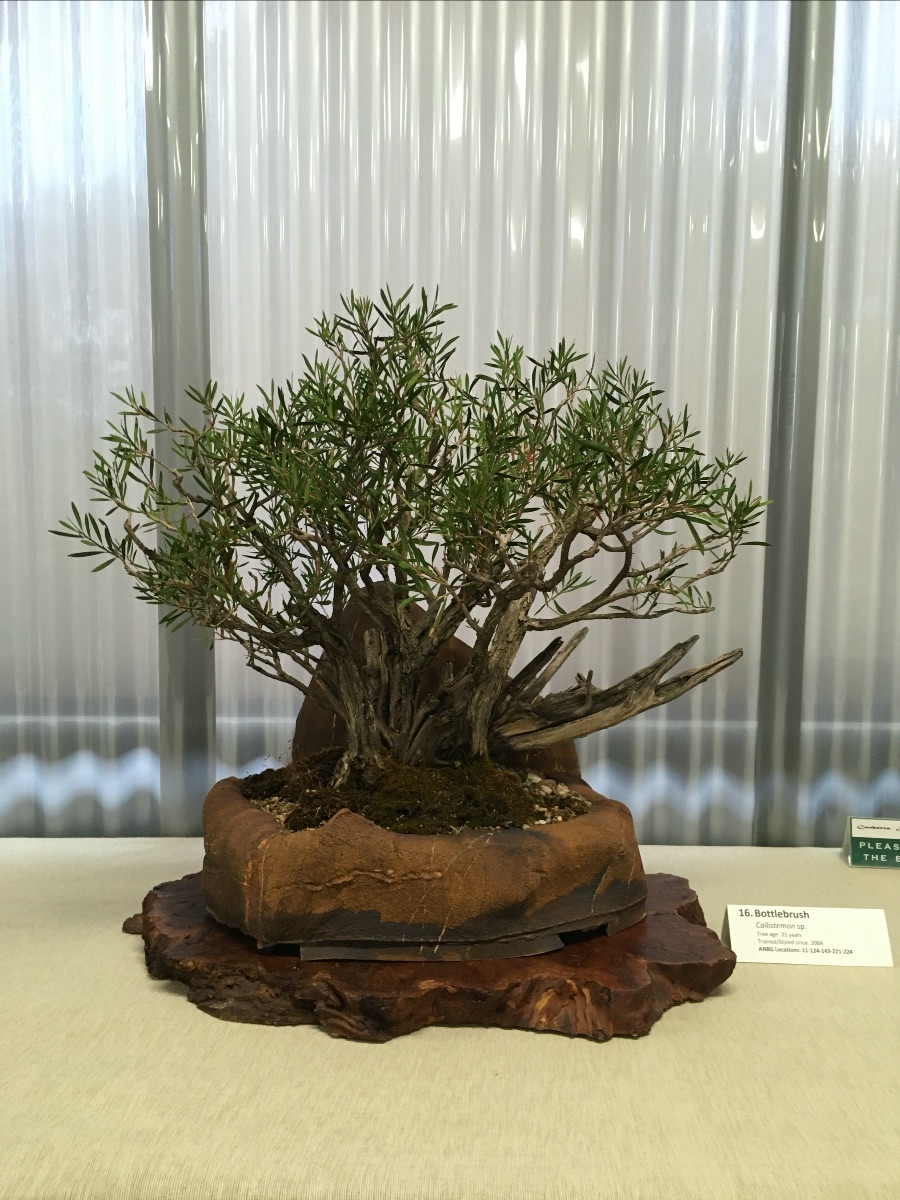 Bottlebrush
Callistemon sp.
Tree age: 30 years
Trained/ Styled since: 2004
This tree tells the story of recovery after flood-waters tipped it over. New shoots soon grew upwards. The pot is reminiscent of a rocky stream bed, where floods have scoured and smoothed the rock, but pockets of soil remain.
ANBG Locations: 11-124-143-221-224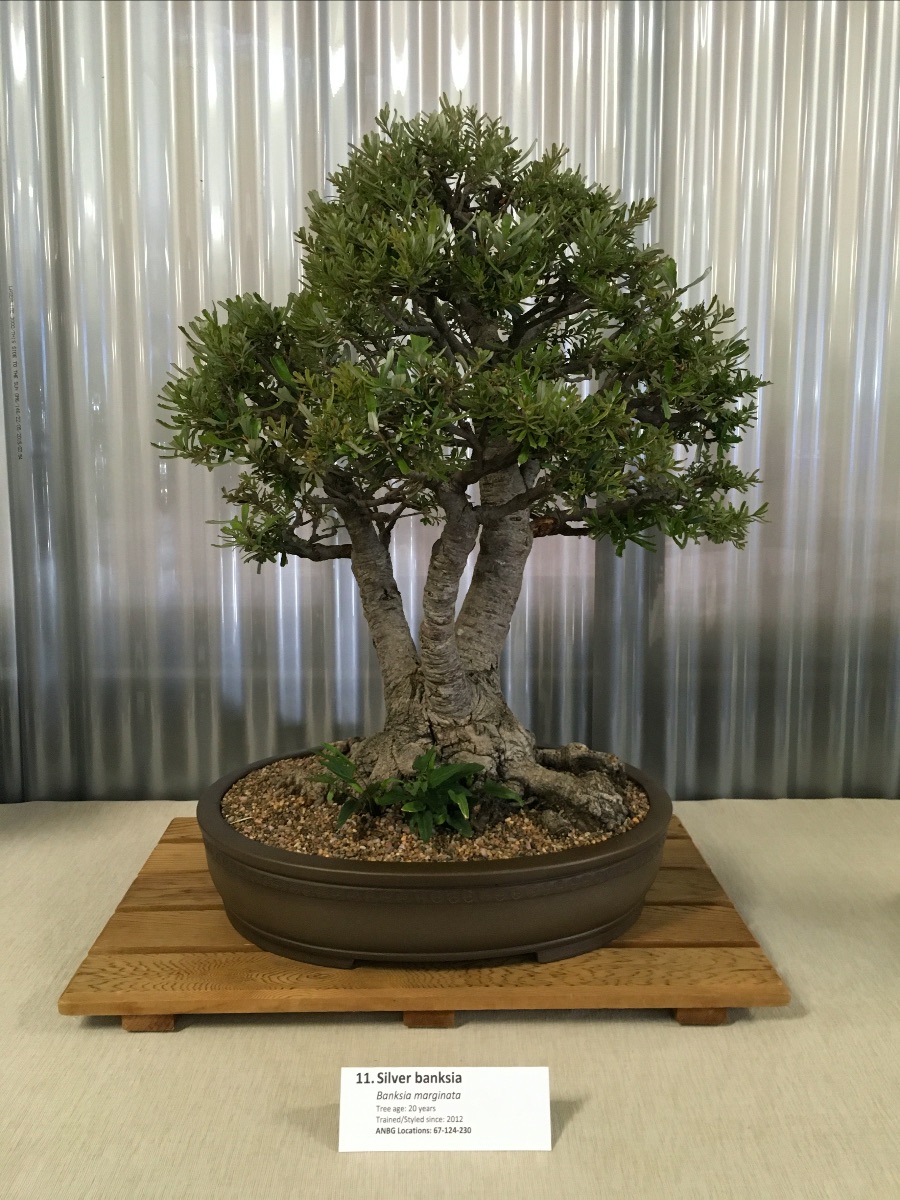 Silver Banksia
Banksia marginata
Tree age: 20 years
Trained/ Styled since: 2012
The rugged surface roots anchor this robust tree firmly and shelter the soft green growth of Viola betonicifolia.
ANBG Locations:67-124-230