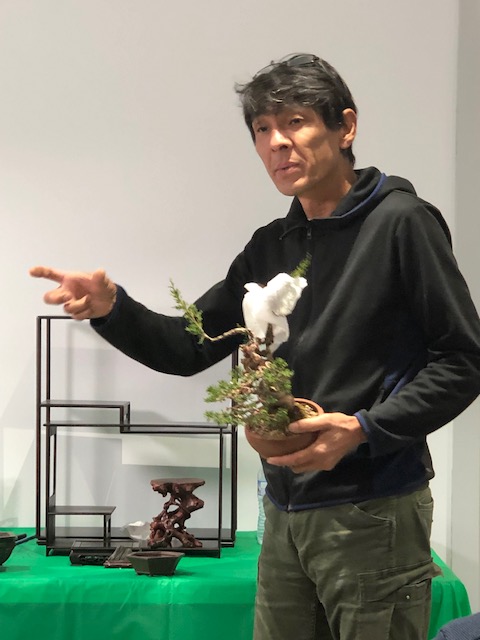 A few members of BSA Inc attended the Shohin Comprehensive Demonstration and Presentation featuring Koji Hiramatsu, at Steve Hantos's new venue, the custom built AusBonsai Studio set amongst a most tranquil Japanese garden in Rosehill, Sydney. Topics covered were growing techniques, styling, pots and displaying Shohin.
Koji Hiramatsu lives in Kagawa Prefecture which is the largest pine producing area in Japan. He is a 4th generation owner of a bonsai nursery specialising in that species.
We learnt that Shohin are bonsai that are typically 20cms in height, measured from soil to tip of the apex. All styles can be created with the main feature being a compact tree and a big focus is placed on the trunk. Jins and sharis are desirable features particularly on pines and junipers.
Evan Marsh, working alongside Steven in the AusBonsai Studio gave a number of talks as Koji worked on various trees. He spoke on soil physiology which would require a full article by itself but suffice to say he spoke of the science of soil explaining what properties of soil are required for bonsai to thrive.
Another talk given by Evan was about Shohin Display- discussing the various guidelines one could follow in setting up a 2 point, 4 point, 5 point or 7 point display: same style trees and pots are discouraged, coloured and picture pots look good, correct scroll placement, accent plants or rocks and the importance of height that each is placed on.
Steven gave a presentation of his method to produce trees with lots of curves and bends and impressive root bases- ideal for all bonsai stock but especially for Shohin. Steven truly is the Gentleman of Bonsai in my opinion. His vision is to lift the quality of bonsai in Australia and he needs to be commended for that.
The day was entertaining, informative and inspiring and I look forward to attending many such events at Ausbonsai Studio in the future.