June is a busy month at the NBPCA with a large portion of our deciduous trees requiring structural pruning now that the leaves have fallen. Any deciduous tree that bleeds sap heavily requires its structural pruning done as soon as the leaves have fallen. Japanese and trident maples are first up. Deciduous trees that are not susceptible to bleeding can be left until new buds are fattening up in late winter, for example Chinese elms.
This month I would like to showcase a couple of fabulous penjing from the late Hong Lin from Melbourne. Mr Lin emigrated from China to Australia in the 1980's, starting his penjing collection again from scratch. He was very active in the propagation of new material for his collection, particularly growing Chinese elm from cutting.
I recall the first time I visited his garden back in 2011 on a loan-swap trip to Melbourne with Grant Bowie. Both Grant and I were amazed at Mr Lin's creations, they were like nothing we had seen in Australia before. A very humble man, speaking little English, he received joy from showing his collection to us. That visit changed my thoughts on penjing forever, to the point now I will add elements of penjing design into the bonsai I create for myself. I really have adopted a crossover of both arts in what I do for my own trees.
The two penjing below are accompanied by a narrative given to us by the artist.
To the uninitiated, the below composition might represent a cascade bonsai style. Depicting a tree growing in harsh conditions from the face of a cliff, where possibly snow, wind or other things have caused it to grow in a sideways or downward fashion rather than upright.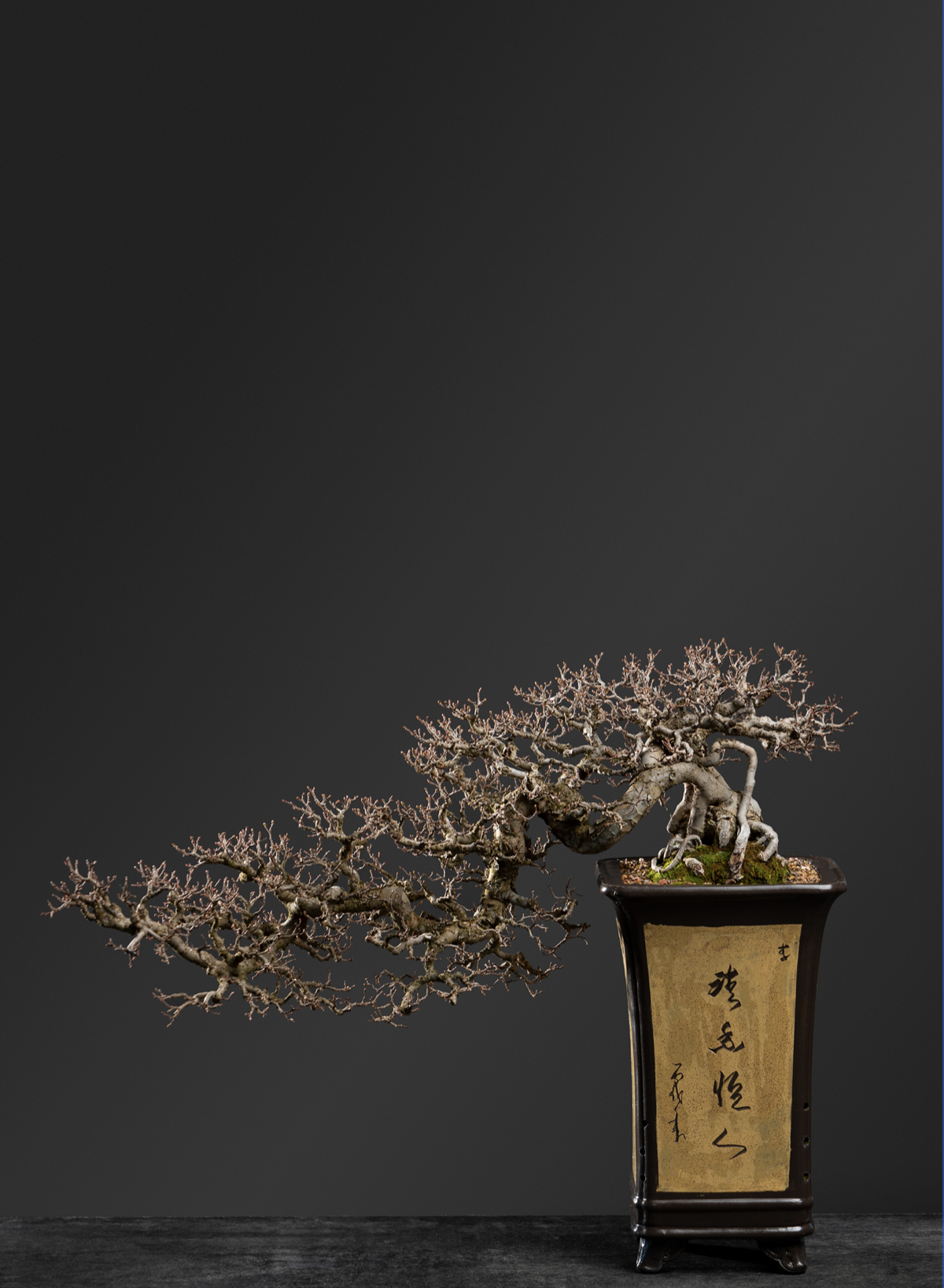 With penjing, however, particularly from the Lingnan schools in the Southern areas of China, the inspiration for the artist is not necessarily to create the illusion of a big, old tree in miniature, but rather to create a wholistic composition that might tell a story, depict a mythical creature, represent a relationship, or among other things, evoke an emotion in the viewer.
What the artist, in fact, was intending with the above composition was to depict a mythical dragon, where the twisting, turning trunk is the dragon's body and its craggy branches are the feet and claws.
For many, the penjing landscape is easily identifiable, with accompanying rocks, different species of plants, and possibly figurines used to create a scenery on a tray. Where a landscape is not the intention, and the artist uses a single tree, or a couple of trees of the same species without rocks or figurines, identifying a penjing is a little more difficult.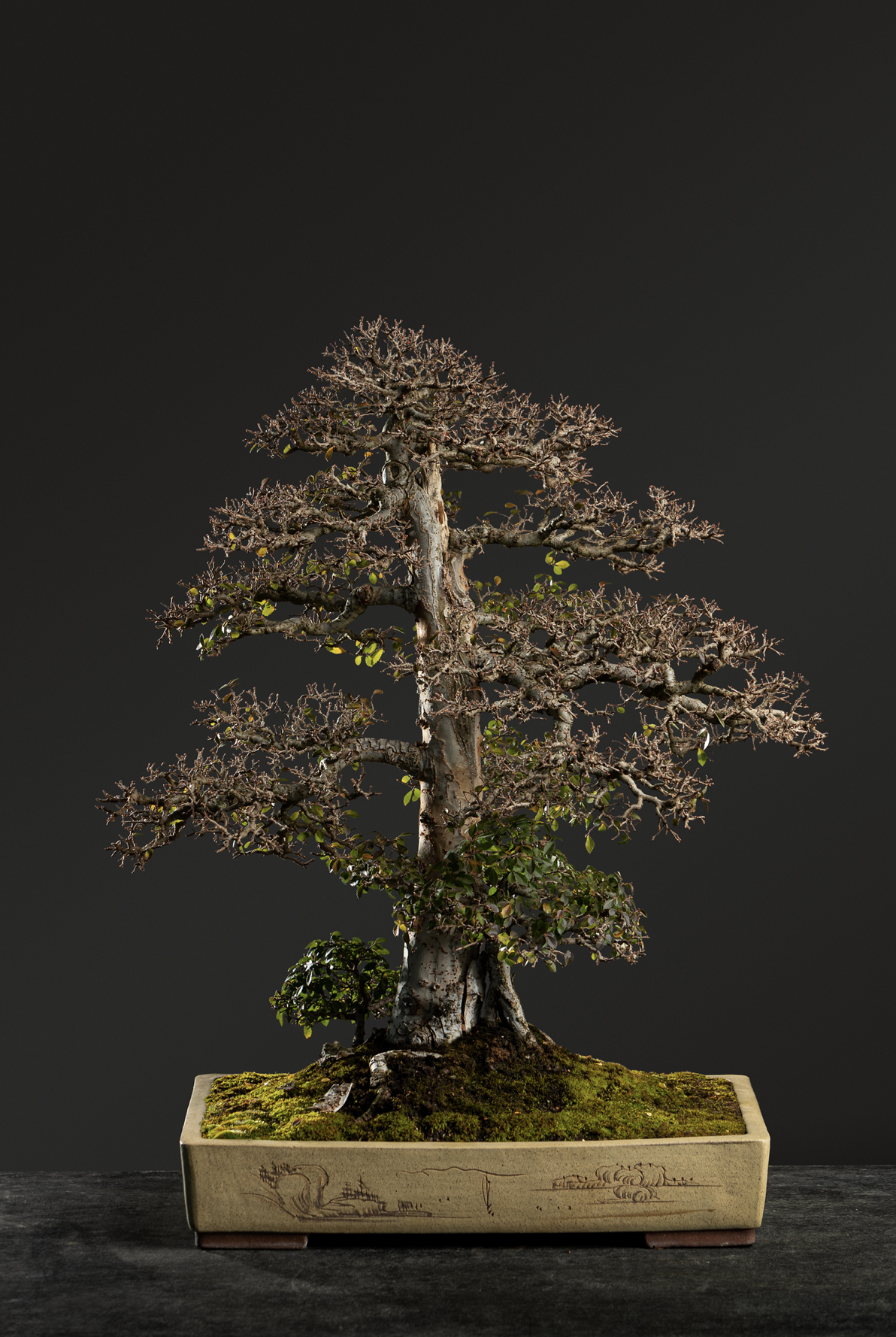 The above composition represents the relationship between a mother and a daughter. A common composition, also sometimes representing the relationship between a father and son. The way the trees are styled and interact with one another help us to understand that relationship. In the above composition, the small tree on the right (Daughter) has its branches growing around the trunk of the larger (Mother) tree, representing a small child with its arms cuddling their parent's legs. The two trees are planted very close together, representing a very close relationship. The first right branch of the Mother tree grows out, down and over the Daughter tree as a protecting arm of coverage. There are elements of strength in the shaping of the primary branches and exposed root at the front of the Mother tree, but also a sense of elegance in the fine ramification of the twiggy tertiary branches.
There is one element to this composition that is unusual and could be described as Mr Lin choosing artistic license to add another small tree at the back of this work. This little tree to the left is actually the Father. A fun play on a story that actually depicts his family. His wife and daughter, and himself to complete a family portrait.
In other news, the National Bonsai & Penjing Collection of Australia (NBPCA) welcomed its second Artist in Residence, Scott Martin from Victoria in April. Scott, who owns Bonsai Matsu located in Melbourne, worked collaboratively with NBPCA staff over three days during April to deliver demonstrations, workshops and presentations showcasing his talent and knowledge. While he was here, Sam Thompson, NBPCA's Assistant Curator, created a short video for our Facebook page. If you missed it, you can view it online here: National Bonsai & Penjing Collection of Australia | Facebook
Keep an eye out for our next intake of Artists in Residence. We will be soon announcing our call out for expressions of interest from Australian bonsai artists. This announcement will be on our social media, the Ausbonsai forum, and via direct email to Australian bonsai club secretaries.
Last year Costa from Gardening Australia dropped by with his crew and filmed a great segment at the NBPCA.
This segment will go to air on Friday the 17th of June at 7.30pm and will be repeated the following Sunday at 1.30pm.
It can also be streamed from GARDENING AUSTRALIA (abc.net.au) or watched on iView after the first broadcast.
Be sure to tune in and see our wonderful Collection on National TV.
Finally, thanks very much to all our wonderful volunteers who have worked hard and with enthusiasm to share our love of bonsai and penjing with the public and enthusiasts who have been visiting in large numbers.