This Japanese black pine setting of six trees was originally purchased from Ray Nesci's Nursery in 2012. It was up the back in a polystyrene box and the trees were approximately 25 years old. They required a small amount of training as they already had some styling but had been neglected by the previous owner and therefore had spindly branches. This was perfect, as the age was there and the trees responded well to fertilising, repotting and wiring.
Left to grow for another year the setting was entered into a photographic competition at the Chinese Gardens of Friendship at Darling Harbour in February 2016. This was judged by bonsai masters from all over China and the setting won.
In 2017, Tony Bebb was a guest demonstrator at the Bonsai Society of Australia and he conducted a workshop for members. Together we worked on the setting, modifying and refining it further.
The following year the three smallest trees inexplictably died, with the only explanation being that the fertiliser was too strong. Fortunately the three larger trees survived. There was a thought to add another two trees but due to the trees growing and thickening, the setting will remain with only three trees.
This setting has always remained in a shallow fibreglass tray and hasn't been repotted for five years as there is a large amount of soil for the roots to spread. This will be done when necessary.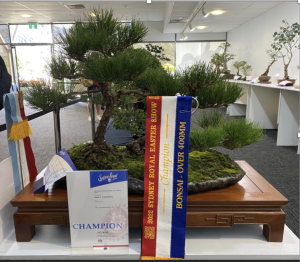 In 2022, it was entered in the Royal Easter Show and won Champion over 400mm and the Supreme Champion for this class.