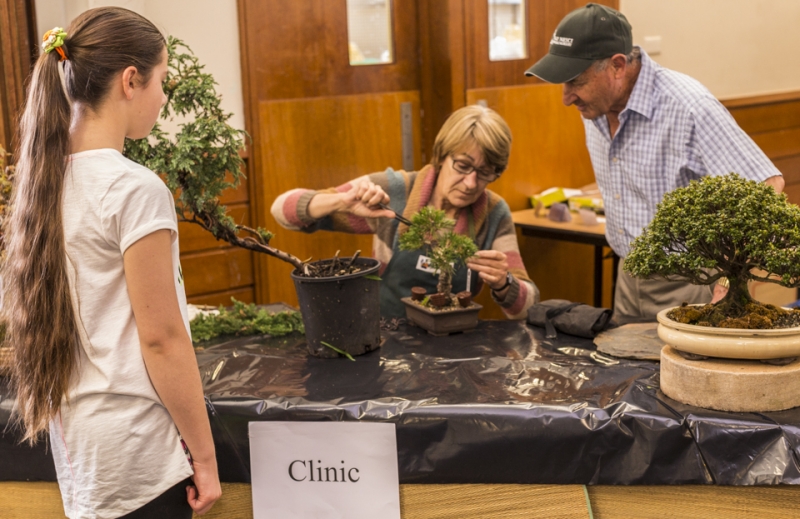 The Committee of the Society extends their heartiest thanks to all those who made the 2014 Annual Show a huge success.
Congratulations to all those members who displayed their trees over the weekend, it was one of the best collections of bonsai for many years and would be the envy of most other bonsai clubs. The people I spoke to who attended the show agreed that the display, and the ambience, this year was outstanding.
There is no show without trees, however, without helpers it is impossible to organise and arrange. Many people gave their valuable time from early Friday morning until late Sunday night.
Props, benches, screens and countless other pieces of equipment needed to be picked up from Castle Hill and delivered to Carlingford, then set up, trees arranged, and countless other jobs done. Then the whole process needed to be reversed on Sunday evening. Quite a difficult, time consuming and arduous operation, and so to all those tireless workers a big thank you. A particular mention must go to Mark, who drove the truck on Friday and again on Sunday.
We must not forget those who assisted on the door, acted as stewards and did the all important jobs of watering and looking after the valuable trees on display over the two days of the show.
Many thanks to those who donated the fantastic raffle prizes to help the club raise a little money, Dennis, Paul, Ray and Sandra, The Sydney City Bonsai Club and Pat Kennedy
I hate to single out more people for special mention for fear of omitting someone, but special mention must go to Georgina, Maureen and Ken for their efforts in coordinating the layout of the room. As I said before the ambience was wonderful.
Congratulations must also go to the fabulous kitchen ladies. Josie, Lorraine, Maulyn and Robin all did a brilliant job. They even gave the Editor a free sandwich!
Special mention must also be given to Brian, Dennis, Mark, and Terry who managed to get 20 square metres of equipment into 18 square metres of storage space at Castle Hill on Sunday night. This is the most frustrating and hardest part of the weekend as we are all tired and want to get home but the gear must be stored away.
We must not forget the demonstrators Brenda, Lee, Linh as well as Sue on the clinic.
A number of friends of the Society also require a mention David, Glenda, Jim, John and Orhan for their assistance over the weekend. Well done and thanks.
To anybody I have missed I can only apologise, I can remember my MasterCard number but I can't remember what I did yesterday!