TOP STORY
It's not often you can send your bonsai collection around the world, but thanks to the latest stamp series from Australia Post, the National Bonsai and Penjing Collection of Australia (NBPCA) can do just that!
Bonsai are the feature of a new stamp series released by Australia Post this July that highlight both the adaptability and fragility of nature. The Australian native species featured on the stamps are a bottlebrush, fig, and paperbark, each crafted in a different style. The NBPCA is extremely proud to be involved in this stamp issue that highlights the beauty and art of Australian native plants as bonsai. Leigh Taafe, Curator of the NBPCA worked with Australia Post in the tree selection from the Collection and he features on the Medallion cover.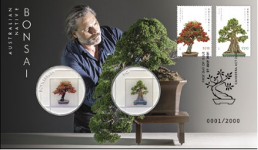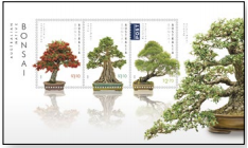 Bonsai has been practised in Japan for at least 1,200 years. It originated from the even older Chinese practice of penjing, which is the art of and science of growing miniature landscapes in a pot or tray (as opposed to a single, more sparsely presented tree).
From the late 1960s, the practice of bonsai gained wide popularity and Australian artists started experimenting with Australian native species as bonsai. An emerging Australian style inspired by our landscape, materials and plant species is now recognised globally. The Association of Australian Bonsai Clubs established in 1980 represents 58 bonsai clubs across the country reflects the popularity of the art.
Thanks to Australia Post for highlighting the beauty of bonsai and the National Bonsai and Penjing Collection of Australia at the National Arboretum Canberra.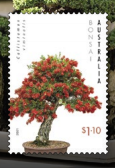 This stamp design features a bottlebrush as bonsai, in an informal upright style (some bend or lean in the trunk). The bottlebrush is the cultivar 'Captain Cook', a dwarf form of Callistemon viminalis, which has a weeping appearance. Bonsai artists Derek and Sue Oakley kindly donated this bonsai to the National Bonsai and Penjing Collection of Australia. The stamp photograph is by Leigh Taafe.