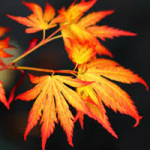 By now deciduous bonsai should be placed in full sun, not only will beautiful autumn colour result but the new buds will also be exposed to the warmth of the sun. Conifers should be given the benefit of as much sunlight as possible at this time of year, you may like to swap their position with your figs which may need protection from frost as we head towards winter. The challenge in the coming months will be giving all your bonsai adequate sunlight.
If planning the purchase of any deciduous trees, now is the best time to judge which plants produce the best autumn colour. Also remember that some maples colour better in spring than in autumn. It is good to have a couple of maples which extend the colour in your bonsai garden.
As leaves fall, remove from bonsai and training pots. Insects nestle among the debris and mildew will form on the fallen leaves. Be aware that rotting leaves also absorb nitrogen from the soil.
Some flowering trees such as cherries and crab apples have produced a further flush of flowers. It is best to cut these off as they take strength away from the plant. Also remove berries from cotoneasters and pyracanthas.
Continue chores such as wiring, weeding and if still fertilising use only a weak solution as growth is slowing down.
Plants at this time of year will be drying out at differing rates, so treat each tree as an individual and check the moisture in each pot rather than water across the board.
If the current wet weather has delayed your repotting programme keep a careful eye on temperatures as cooler and damper conditions aren't conducive to repotting evergreens. If temperatures fall leave it till late winter or early spring..