Last month, despite the obstacles, Canberra Bonsai Society held their annual show and what a success it was. People queued quietly (and with social distancing it was a long queue) and once inside had the opportunity to buy all things bonsai and buy they did! By midday on Saturday, the sales tables were looking denuded but there were plenty of beautiful trees to admire- 80 in fact. This year, the hawthorn were flowering beautifully. What a treat for a Sydneysider!
So to the trees. Here are some with their catalogue descriptions starting with the winner of the People's Choice Award, a magnificent Swamp Cypress.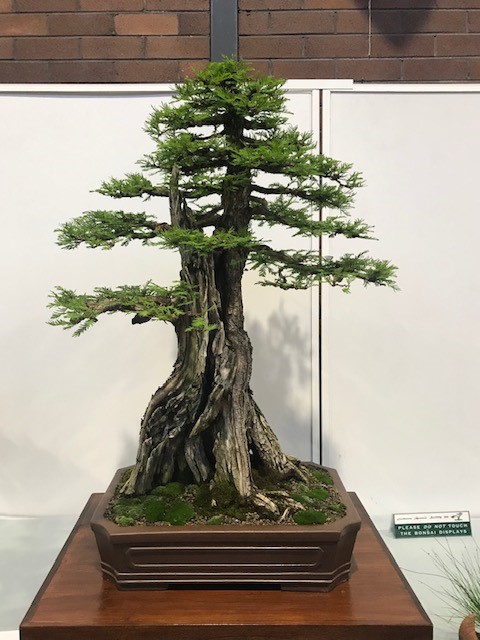 Swamp cypress
Taxodium distichum
Age: 24 years
Trained since: 2006
The tree was ground grown from a cutting and collected when it was approximately 6 meters tall. The tree was cut to 80cm high and the main trunk was extensively carved. The tree budded back branches and a new apex was chosen and grown.
The tree won the Bonsai Clubs International Award for Excellence in 2012 and the CBS best tree in 2015.
Japanese black pine
Pinus thunbergii
Age: 28 years
Trained since: 2000
This cascading Japanese black pine represents the struggles of a tree in nature, where it could have been clinging to a cliff whilst reaching for sunlight.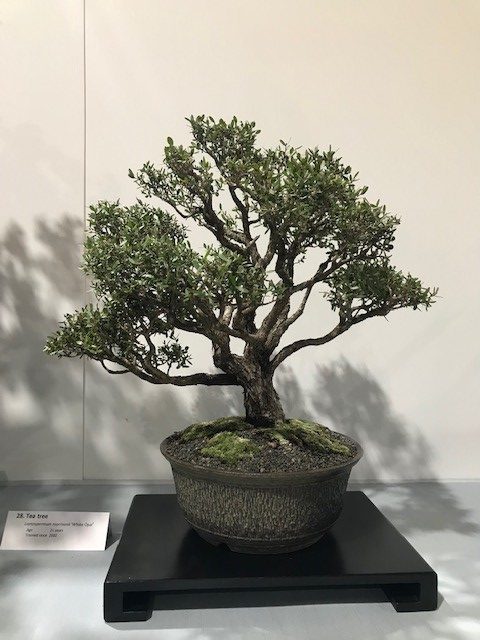 Tea tree
Leptospermum morrisionii 'White Opal'
Age: 21 years
Trained since: 2002
During its early years as a young stock plant for a nursery, random trimming resulted in an interesting configuration of branches as each sought its own 'place in the sun'. The tree is, in effect, an unconventional twin trunk with the branches interlacing to form one canopy.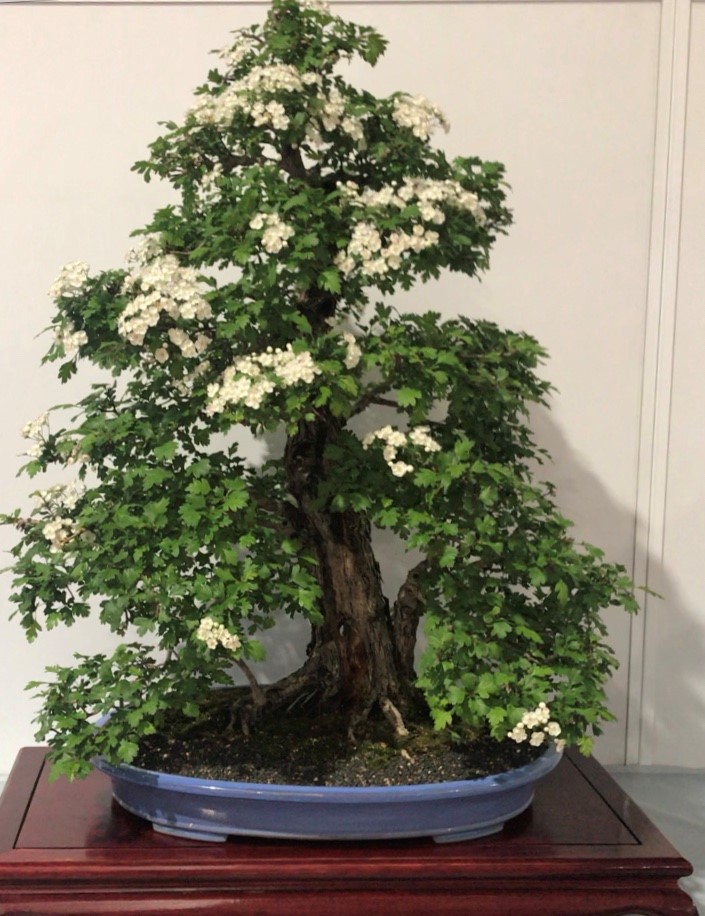 Hawthorn
Crataegus monogyna
Age: Unknown (dug from wild)
Trained since: 2007
This tree was dug from a cow paddock near Goulburn in my first year in Canberra, 2007. The root system was cut flat using a reciprocating saw. All existing branches grew from new buds after all branches and extra trunks were totally removed. The tree was on loan to the NBPCA for the past 5 years.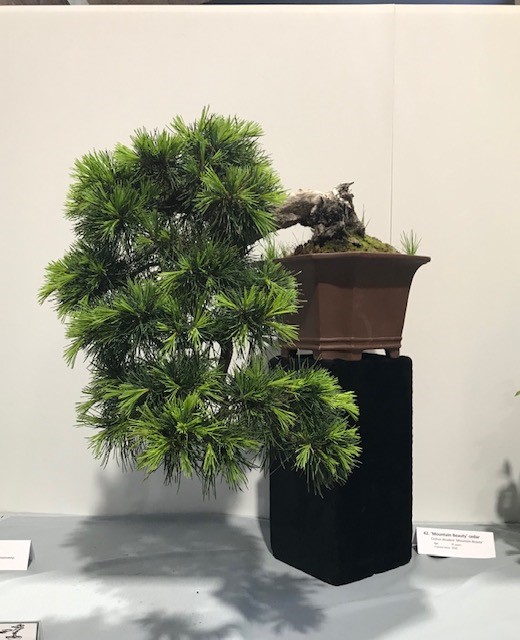 'Mountain Beauty' cedar
Cedrus deodars 'Mountain Beauty'
Age: 25 years
Trained since: 2010
This is a dwarf prostrate form of deodar cedar. It's naturally very dense, and has taken many years to grow into itself.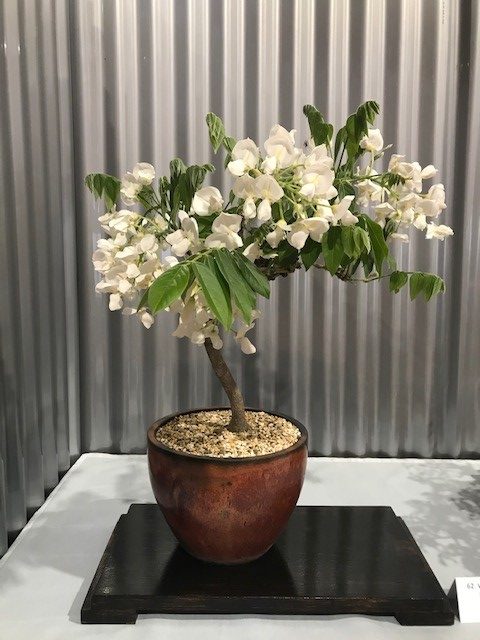 White velvet wisteria
Wisteria brachybotrys 'Shiro-kapitan'
Age: More than 6 years
Trained since: 2017
I chose this plant when I purchased it because it already had a strong trunk. I kept it with a wooden support under the branches until this year. It has flowered for the past three years.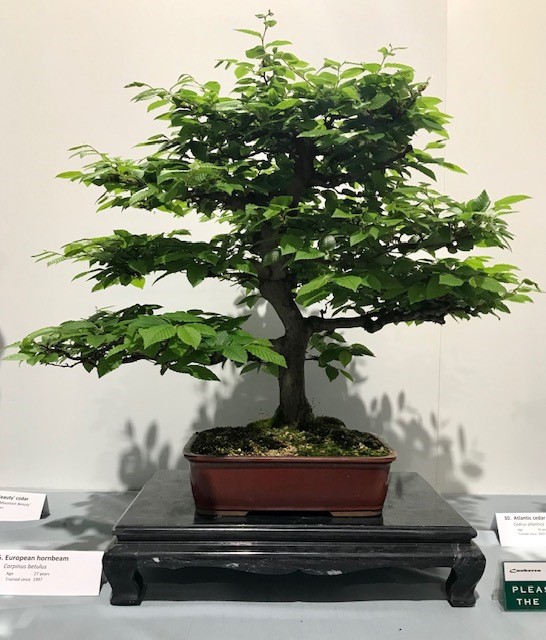 European hornbeam
Carpinus betulus
Age: 27 years
Trained since: 1997
The tree was bought from Bonsai Koreshoff Nursery as a young tree in 1993. It's just coming into full leaf.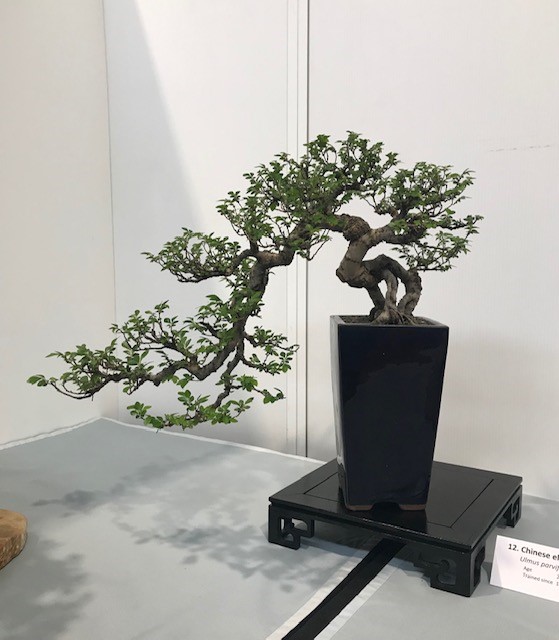 Chinese elm
Ulmus parvifolia
Age: 29 years
Trained since: 1991
This tree was started as a root cutting and was trained in the Chinese penjing style and method. It evokes feelings of age and exotic landscapes in the tiny, ramified branches, windswept trunk line and cascading branches.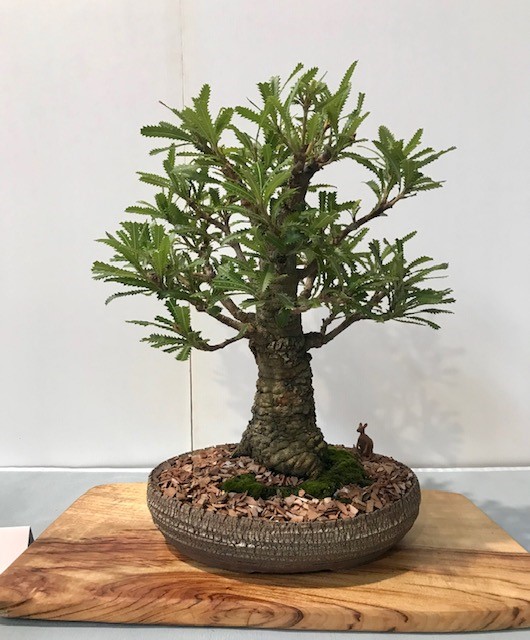 Saw banksia
Banksia serrata
Age: 8 years
Trained since: 2014
The striking feature of this tree is the thick knobbly trunk. The tree started life as a tube stock. Each year the trunk expands, adding to the sense of power, strength and potential of the tree. A routine task when caring for bonsai is branch pruning, for this tree it is leaf pruning. To balance the image of a small tree, the large leaves have been trimmed.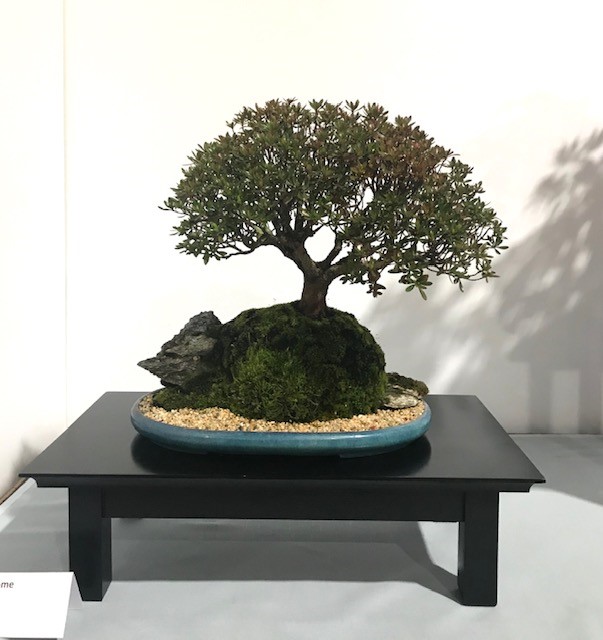 Azalea sao-to-me
Rhododendron sp.
Age: 24 years
Trained since: 1998
Purchased in 1998 at a club sale. This plant is a non-flowering species with small leaves that change colour in cold weather. I placed it on a rock at a club workshop. It has never been repotted. This year it was affected by the hailstorm, but now is recovering.