Bonsai-En is an online bonsai shop and nursery in NSW Australia.
We want to start supporting bonsai clubs around Australia which
will also help support our growth to stock a larger range of
quality bonsai supplies In Australia.
We ship Australia-wide and have a rewards program.
We can also work with clubs for bulk deliveries of substrate
including Akadama, pumice and Kanuma with more added soon.
We currently stock both mid range tools and Japanese tools
along with all sizes of aluminium wire with the hopes of
carrying copper wire very soon.
We have a wide range of other products at some of the best prices.
We are offering clubs in Australia to set up a 5% member discount.
This will give your members an automatic 5% off every purchase plus
they will still earn reward points for future discounts.
You can see our webstore here: www.bonsai-en.shop
You can also see our main website here: www.bonsai-en.com.au
If this is something you would like to set up for your club please
reply and let me know and we can set up your members discount code.
Kind Regards
Josh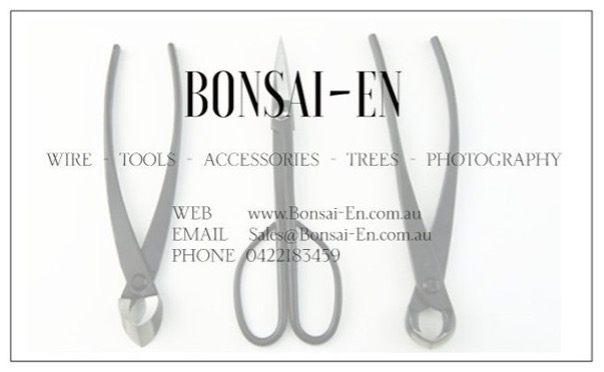 Sydney City Bonsai Club is organising an outing up the coast to Bonsai World on Sunday August 15. It will be an opportunity to make a few plans for Spring and have a look at their stock, pots and other goodies. We will be probably getting a demo on some bonsai related topic and maybe a cup of tea. Members from BSA are welcome to tag along if they wish. If people want some more details reply to